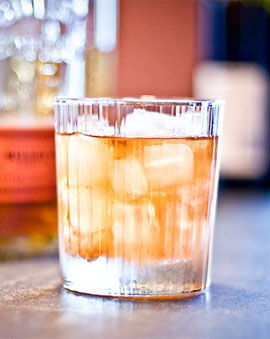 When Bryan Swanson invented the Magnificent Bastard Cocktail in 2010, there was some grumbling from some single malt scotch purists that mixing Laphroaig into a cocktail was fundamentally wrong. While we could kind of see their point at first, we couldn't after enjoying a few of these tasty, slightly smoky treats.

Now, nearly two years later, the February 2012 issue of GQ says, "any cocktail joint worth its Boston shaker is working the smoky stuff (i.e. single malts such as Laphroaig) into drinks."

While they recommend something called Penecillin, try the MB instead:

2 oz Bulleit bourbon
1 oz Berentzen Apfelkorn
1/8 oz Laphroaig 10-year scotch
2 dashes Angostura bitters

Combine all ingredients in a mixing glass filled with ice. Stir vigorously for 20-30 seconds. Strain into ice-filled rocks glass.