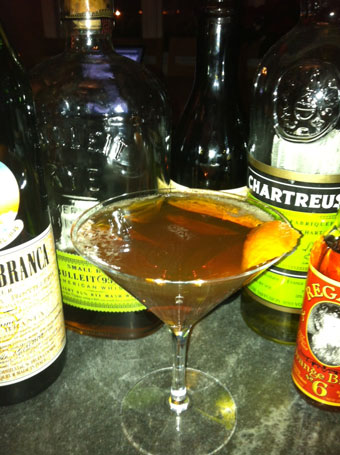 Record cold temperatures have descended upon the U.S. Entire basketball teams are getting stuck in snowdrifts. In Missouri, it was so cold even Hidden Valley Ski Resort shut down due to the "polar plunge."
In other words, perfect cocktail weather. When it's this cold out, though, even a hot toddy won't do. We decided we needed something new to celebrate this unprecedented cold snap, so we decided to create a new drink in its honor — the Polar Vortex.
As a starting point, we modeled the Polar Vortex on the classic Fanciulli cocktail, a Manhattan which uses Fernet Branca in lieu of bitters. For this bitter weather, though, you need bitters, so we doubled down with our favorite — Regans' Orange Bitters. Then, we added an extra ounce of hearty American rye whiskey to brace ourselves against the wind chill.
Unlike our normal languid, waltz-like shake of the ingredients, we gave everything an aggressive shake to produce a wintery, frothy top. A swirl of yellow Chartreuse in a chilled martini glass gave the Polar Vortex its full force. An orange peel as garnish added an optimistic note. Somewhere, it suggests, it's still warm enough to produce citrus.
One Polar Vortex takes the edge off quite nicely. Two will have you loosening your scarf. Three will make even Frosty the Snowman a little slushy, so watch your step.
The Polar Vortex
3 ounces American rye whiskey
3/4 ounce sweet vermouth (Carpano Antica)
1/8 ounce Fernet Branca
2 dashes Regans' Orange Bitters
1/8 ounce yellow Chartreuse
Shake the whiskey, vermouth, Fernet Branca, and orange bitters. Swirl the yellow Chartreuse in a chilled martini glass and slowly pour in the arctic cold cocktail. Finish with an orange peel.
Earlier: Magnificent Bartender Endorses: Regans' Orange Bitters