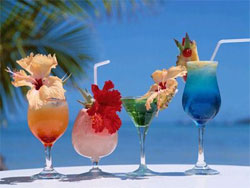 Q: What's an MB's breakfast drink? Mimosas seem unbastardly, so what are we to have with our mid morning breakfast when we're sailing in Hawaii?
--Tripp

A: Tripp, a few thoughts:

1. Mimosas are for women.
2. While we've given lukewarm special dispensation for Tommy Bahama camp shirts while on the Hawaiian Islands, we don't for Hawaiian Island-y cocktails while you're there. Continental U.S. cocktail rules still apply: no blenders, no pastels, no straws, no flowers, and absolutely positively no umbrellas.
3. Make it a Bloody Mary. And easy on the bloody.