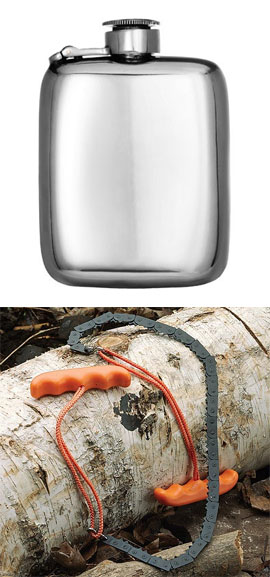 Q: I'm struggling to figure out what I should get my groomsmen for being in my wedding. Any ideas?
—Trae

A: If it's your first marriage, you're probably relatively young and so are your groomsmen. They haven't been groomsmen at a ton of weddings yet, so we think it's safe to go with something fairly predictable and yet eminently useful to any man: A decent flask. Yes it's cliché and our endorsement might have something to do with our love affair with alcohol — did you ever think for one second this site is the product of men who are sober? — but it's the only groomsman gift we've ever received that isn't either in a landfill or hidden away in a drawer somewhere. (In fact, this gift is hidden inside our blazers' breast pockets right now.)

Anyhow, we like this Wentworth pewter flask from Kaufmann Mercantile. It's handmade in Sheffield, England, fully satisfying the principle of Anglophilia, and with the 6oz. version, also satisfying the principle of getting tight.

Now, if it's your second marriage or beyond, you need to be a little more creative. In this case, we like the Survival Hand Chain Saw from Garrett Wade. Extremely portable, weighing almost nothing, your groomsmen will find it perfect for sawing through their own arm when they need to escape that bridesmaid they're stuck under the morning after. It's not an item most guys have, but who wouldn't want to have one handy?