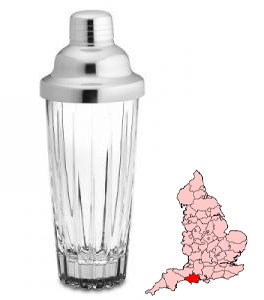 As the weather here has quickly turned from highs in the 90s to highs in the 60s, our palettes have turned equally as fast from desiring gin and tonics to needing Magnificent Bastards. We recommend mixing this drink -- and any other drink for that matter -- in a glass shaker, and, short of finding an Austrian 800 silver & cut glass cocktail shaker on eBay, can recommend a mixing vessel worthy of your consideration: the Williams Sonoma Dorset Cocktail Shaker.

Named after the county on England's southern coast, this lead-crystal barware catches and reflects light, thanks to its hand-fluting. And if that's not a charming enough backstory for you, it's not available at williams-sonoma.com. You actually have to travel to a store to buy it. $99.

An MB Cocktail recipe refresher course:

2 oz Bulleit bourbon
1 oz Berentzen Apfelkorn
1/8 oz Laphroaig 10-year scotch
2 dashes Angostura bitters

Combine all ingredients in a mixing glass filled with ice. Stir vigorously for 20-30 seconds. Strain into ice-filled rocks glass.

Yum.