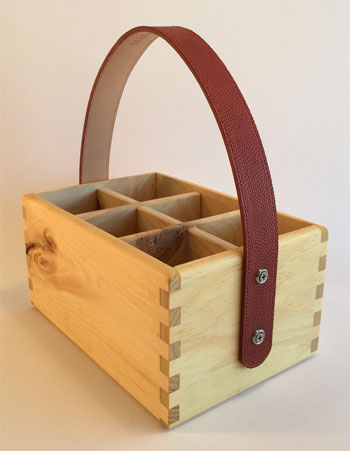 Exhibition games are mercifully over. Final cuts have been made. It's time for a new season of NFL action, and that means it's also time to introduce our latest lifestyle accessory: The Magnificent Bastard Game-Day Luxury Box. Crafted by fourth-generation woodworker Kyle Huntoon of Hunt & Noyer, this Super Bowl-caliber six-pack caddy is constructed from sturdy furniture grade pine, real football leather from Horween, genuine AstroTurf, and our own hard labor. (It's true; we screwed the straps into the boxes ourselves.)
Let's huddle and break this down in a little more detail. The box itself is made in Detroit. The strap comes from a Chicago leather supplier. The strap was cut and finished in a Minneapolis leatherworks, and all the finishing touches were done in our garage by Packer fans. Talk about a team effort — that's 100% of our all-time favorite division, the NFC North!
Buy one this week, and we'll throw in a six-pack's worth of Disposable Letterpress Beverage Shields on the house.