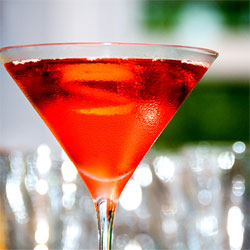 We're falling behind on mixing instructions for our Cocktail Color Changing Guide, but better late than never we say, especially when it involves getting hammered in style. Up now: the Negroni, both in Poor Bastard and Magnificent Bastard versions.










Poor Bastard - Negroni

2 parts everyday gin (Seagram's Extra Dry)

1 part Campari

1 part sweet vermouth

Throw all these into a low ball glass with a bunch of ice, stir it up and toss on a slice or wedge of an orange.

MB - Negroni

5 parts Plymouth gin

2 parts Campari

1 part Pimm's No. 1 Cup

1 part sweet vermouth

1 part dry vermouth

2 dashes of orange bitters

Quick shake or stir and pour into chilled Martini glass. Garnish with an orange twist.