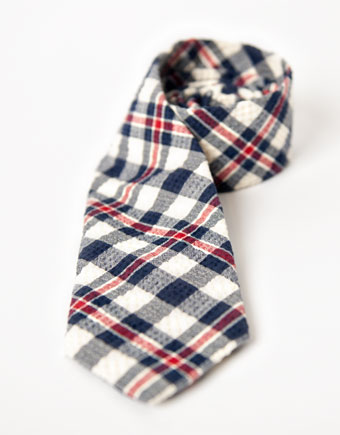 As nice as it once was in Minneapolis, we have to believe it's far nicer right now in Biella, Italy. Or maybe it's just that we're in an Italian state of mind, now that a couple of our new ties are here, in the shop, ready for purchase. To celebrate, we're pouring ourselves a Last Word, heading to Olive Garden for a Never Ending Pasta Bowl®, and putting on "Springtime in Italy," which is what we're calling one of our two new ties featuring fabric from Lancifico Subalpino, our favorite Mediterranean fabric house.
This beautiful specimen is made from a textured lightweight cotton that reads as crisp, alert, and artfully dishevelled. Put it on, and you may sense that your blood alcohol level has magically risen by 0.01 percent. But no higher — this tie makes you feel playful, not sloppy. You'll have trouble staying in the office, but if you duck out, even Shelly in HR will understand. A tie like this is made for striding boldly down springtime streets, not staring at spreadsheets at your standing desk.
NB: "Springtime in Italy" is one of a handful of MB ties available for the runner-up in the 5th Annual Allyn Scura Eyewear Challenge. Take the Challenge now! Deadline to enter is March 31.