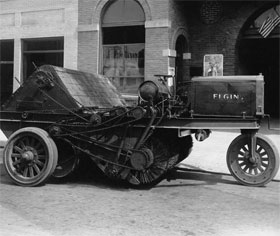 Q: Spring is here, and I am anxious to leave the miserable winter of 2008-09 behind. But on to more pressing questions. Your cocktail guide for the fall/winter got me through many a winter doldrum. What about spring/summer? Is it just gin & tonic until the leaves change?
--Ed

A: For some, the swallows returning to Capistrano mark the inevitable return of spring. As we look out the windows of our Pulaski, WI offices, we're reintroduced to spring by the return our city's only street sweeper, the Elgin #1 (pictured). The MB should take note of this and realize it's time to clean out your cabinet of the brown liquors of winter, save perhaps a bottle of scotch for your seasonally resilient Rob Roy, as you move from brown to clear liquors. We don't endorse the temptation to throw your dead soldiers into the streets to be swept up.

The most efficient and straightforward strategy to begin your journey is through Manhattanization: mixing any appropriate brown liquor, with a shot or so of vermouth (sweet, dry, or a mix of the two to go perfect), and a dash of bitters. It works for bourbon, scotch, rye whisky, or brandy.

Given the urgency, you may need to introduce a more aggressive approach to ensure you get through your stock of brown liquors before it's time for the clear ones. If this "problem" presents itself, you just need to take adjust your recipe while recalling one of the strangest words from your high school science class: meniscus.

Fill a lowball glass with ice, pour the brown liquor you're trying to polish off to just below the top of glass. Remember, the meniscus will make it appear to be slightly higher at the edge of the glass than in the middle. You need to leave just enough room for that splash of vermouth.

If you have any straight rye whisky, we also strongly suggest mixing up a Sazerac to give yourself some variety during this spring cleaning. Here's the simple, MB endorsed recipe:



Sazerac


3 shots Rye Whisky (or to taste)
1 sugar cube
Peychaud's Bitters
quarter shot of Absinthe
lemon twist

Soak the sugar cube with the bitters and place in the bottom of a highball glass. Mash with the back of a spoon (or muddler, which we hope has not been used to make a Mojito), add the rye whisky and fill the glass with ice. Stir for about 30 seconds and then strain into another lowball glass that has been rinsed with Absinthe and filled about halfway with ice. Garnish with a lemon twist.


---

By early May, you may be tiring of this duty, so the MB allows himself for one day, and only one day, to enjoy a Margarita. Thanks to the blender (or liquidizer for our UK friends), this perfectly acceptable cocktail has far too often been associated with frothy spills on countertops, enormous glasses, and crappy salsa. So, on Cinco de Mayo, the MB may have a Margarita. And since you're only allowed one per year, you might as well do it up right.



MB Endorsed Margarita


2 parts Tequila (must be 100% agave, blanco is fine)
1 part Cointreau
1 part fresh lime juice

Shake all the ingredients and pour into a martini glass, rimmed very lightly with salt.


---

If you've paced yourself well, as the weather heats up you should have more than a few occasions to enjoy the drink that marks the pinnacle of summer cocktailing: the gin and tonic. Before reaching the summit, though, consider the MB version of the Southside. We've left out the mint to embrace more of a pure lemon experience, and more importantly, to avoid any confusion with the ubiquitous and clearly not MB-endorsed Mojito. Think of it as lemonade for adults.



MB Bastardized Southside


2 parts gin
1 part fresh lemon juice
1 sugar cube (or half teaspoon simple sugar)
Soda water (if desired)

Place the sugar cube at the bottom of a lowball glass, add the fresh lemon juice, and mash with the back of a spoon. Fill two-thirds with ice and the gin and stir for at least 30 seconds. Add soda water, if desired, and give a quick stir. Garnish with a lemon wedge.


---

And finally, with the heat of summer the MB turns to the Gin and Tonic. There's no recipe needed for the classic gin and tonic, as the MB should have it well known what his preferred gin/tonic ratio is, perhaps even adjusting it for the weather. But he certainly should not allow any shortcuts to be made with the ingredients. Start with quality gin: Plymouth and Boodles are both MB endorsed.

With the growing availability of premium tonics, there should be no need to rely on hose-fed tonic for the cocktail that's going to be the highlight of many sunny afternoons. The basic order of tonics is this: Fever Tree, Q Tonic, Fentiman's, Whole Foods 365, dog urine, Schweppes.