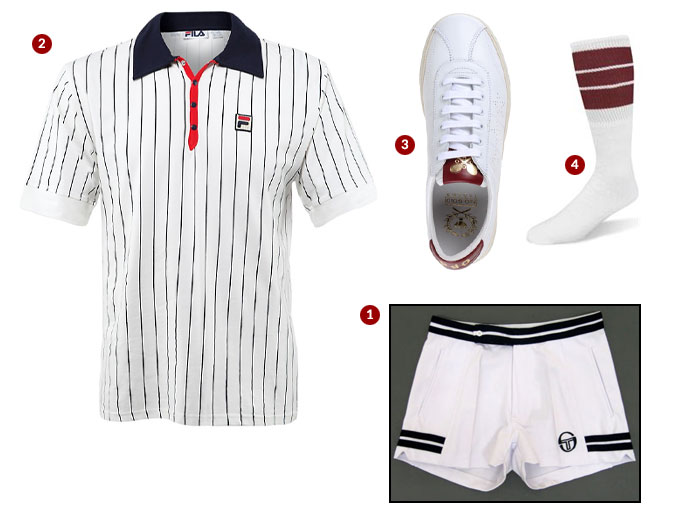 We're trying something new: Get Dressed.
We get a lot of "what should I wear?" questions at Ask the MB, so we thought than on occasion, when we're having an occasion, we'd share what we wear. Articles and accessories will reflect core MB tenets like archaism, Anglophilia, artful dishevelment, and a few others that don't start with the letter A.
The first occasion: A singles match at the club during Wimbledon.
For any tennis played during this fortnight we always channel two of our all-time favorites, Bjorn Borg and John McEnroe, and split the difference where we can. We also strictly follow the Club's hopelessly vague and wonderfully antiquated "almost entirely white" rule.
1. Shorts. While ATP players' shorts have not yet reached the slacks-like length of the NBA and NCAAB, they're still far too long for our taste. We want zero restriction as we go wide to reach for our opponent's cross-court volley, and tanned thighs nicely accompany a down-the-line winner in response. 4" max inseam here, and cotton of course (principle of organic materials). So we're wearing these Sergio Tacchinis (the McEnroe brand) from a terrific UK eBay shop called honourabletype. Bookmark this one. $43.69.
2. Shirt. McEnroe got the shorts, so naturally Borg gets the shirt. What else but Borg's iconic Fila striped polo with oversize collar and 4-snap placket? $41.99.
3. Shoes We could take the court with the left foot wearing a Borg Diadora and the right foot in a McEnroe Nike, but instead we're opting for the classic style, relative obscurity, and archaism of Pantofola d'Oro low-tops in white. Launched in Ascoli Piceno, Italy in 1886, these are made for the street but hold up great on the court, and no one else wears them. $210.00.
4. Socks Simple. Wigwam King Knee High Tubes. Push 'em way down, exactly opposite as pictured. $8.00.