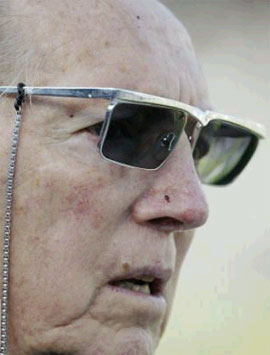 Q: What brand/model/style of glasses did Oakland Raiders owner Al Davis wear?
—Ray

A: Al Davis likely took the sure answer to this question to his grave. A Google search says they are vintage Alain Mikli shades, but our best guess is these are vintage or custom Vuarnet — indicated by the V-shaped bridge — a company which was acquired by Mikli in 2009.

Either way, finding a pair will be more difficult than finding an answer to why Davis made JaMarcus Russell the #1 pick in 2007.