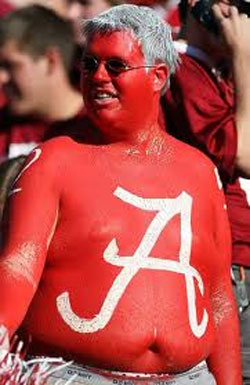 Q: What does an MB wear to an early September (over 100 degrees) afternoon football game at the alma mater?
--Claxton

A: Even in cooler Big Ten climes, afternoon September football games against the likes of Austin Peay are best enjoyed at a bar near the stadium, rather than squeezed in with 80,000 sticky, sweaty Badger fans.

If the ticket's already purchased, follow our advice already given to Los Angeles Lakers fans: look like a fan without really trying. This means shorts, shoes/sandals, and a t-shirt/SS you'd feel comfortable wearing to a non-gameday BBQ, with only a subtle hint of your team loyalties. In other words, somewhere in between the plastic flip-flop, team jersey, backward ballcap-wearing undergraduate throngs, and the legible grey-haired alum with the world's worst sunburn.