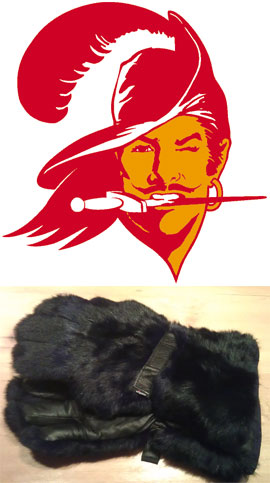 Q: I was all set to pick up a pair of the MB-approved Kombi Captain Freedom gloves for a ski trip in Jackson Hole, when I discovered that the folks at Kombi have altered the design. (new one here: http://www.snowshack.com/detail/SNW+KB-30324+L). It's like New England getting rid of the Pat Patriot helmet. Some things just don't make sense. Nonetheless, the gloves are still pretty sweet. Do you approve?
—Andrew

A: What's worse? New England getting rid of Pat Patriot or Tampa Bay abandoning the winking pirate Bucco Bruce? We say the latter by a nautical mile.

At any rate, we were completely joking about wearing the Kombi Captain Freedom gloves for skiing. (Though we weren't joking at all about wearing the Naked and Famous Snowpant Denim; they are terrific for banging bumps.)

What we're wearing this year is Wigens bearclaw gloves (bottom). Made in Sweden, these not only protect your fingers from Jack Frost, they also double as part of a Halloween costume if you're dressed as a black bear. 100% goat leather plus 100% rabbit on the outside, the only problem with these is they're too warm.