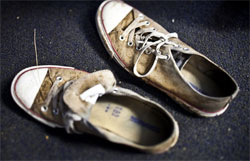 Last week we had a shorts-with-shoes question and answered the first part. Now for some shoe suggestions.

First, some guidelines:

1.) Clear some room at the end of the bench for Chuck and Jack this summer. They've been playing non-stop all year and could use a breather.

2.) Sneakers that you plan to wear with shorts are one item where we give more leeway than we usually do to bright colors, patterns, and logos. Don't go crazy though. If Turtle from Entourage would wear it, you've probably gone too far.

3.) Sticking with white or gray is your best bet for picking a shoe that can work with a wide variety of shorts. (Important note: If you're a size 12 or over, do not go with an all-white shoe unless you're trying to pick up work as a clown at children's birthday parties.)

4.) If you're dying to incorporate red velour into your wardrobe, a pair of sneakers is the only place to do it.

Banana Republic no-show socks.

Lyle & Scott Canvas Plimsolls
$85

Scottish brand with a golfing heritage, founded in 1874. Just like Scottish singer Susan Boyle, these plimsolls are built a little more solidly than many others on the market.

TST
$125

Designer Seishi Tanaka hand-draws the sketches for the TST line and it shows. This model leans toward the more athletic end of the athleisure shoe spectrum -- we think we could actually play some touch football in it -- but it has an organic quality not found in the hyper-engineered footwear of, say, Nike or Reebok.

Pataugas Rock
$138

If you want to add a Gallic touch to your Fourth of July barbecue, try these sneakers from Jean Paul Gaultier's shoe line, Pataugas. (You can pick up last year's slightly different model at yoox.com for only $89.)