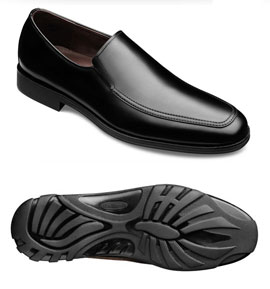 Hi. Saw your latest "Ask the MB" post on shoes and thought you might like something new from Allen Edmonds: The Bucktown for $199 and The Boulder for $175. Thanks for all you do.
--Joel

A: Joel, please keep reading this site! The Prada loafers strike the perfect office/sport balance that is the MB dress shoe aesthetic. They will shine with a suit, all manner of dress pants, and even indigo denim. The Bucktown (Crosstown Collection, top) is going to feel most at home with a traditionally cut wool suit. And you shouldn't be wearing those anymore.

Meanwhile, The Boulder (Weekend Collection, bottom) looks like a marriage that's headed for divorce: hiking shoe soles grafted onto a loafer that looks like it should never travel outside a suburban Boomer's well-manicured yard.

Ed. note: We are hearing you. $460 is not a realistic shoe price for a lot of readers -- even with free shipping -- which is why we suggested the Camper Dni as a more affordable alternative that's very close. They're discontinued, are available here, and have word from someone who understands German that Herren Ausstattler does ship to the U.S.