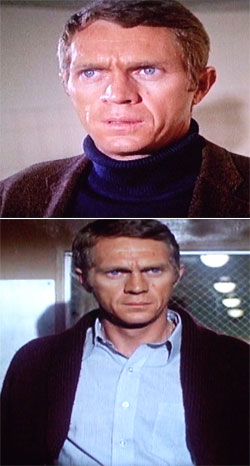 Q: Steve McQueen, Magnificent Bastard. Mock turtleneck. Bullitt. MB pronouncement, repealed?
—Marcus
A: Yes, Steve McQueen certainly was a Magnificent Bastard, but we can assure you that at no time in Bullitt did he wear a mock turtleneck. Take a closer look and you'll see it's perhaps Film's Most Famous Real Turtleneck; a blue ribbed turtleneck sweater, shown underneath a tweed blazer (top).
Overshadowed by the famous turtleneck was McQueen's demonstration of how to nail a chunky shawl collar cardigan with woven shirt (bottom).