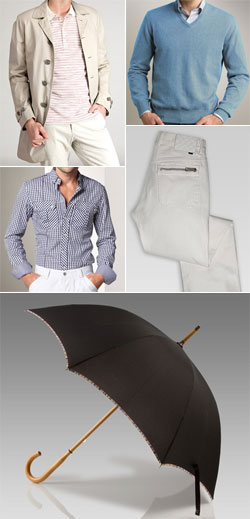 Here are five things you need once the snow melts, and you have about $2K burning a hole in your pocket:

1. Khaki Trench
The khaki trench doesn't just protect you from the elements, when left unbuttoned all that fabric can create the illusion of a man of action, intrigue, and dramatic flair, even if you work in a cubicle. And it goes with everything (except, of course, khakis). To avoid looking like Inspector Clouseau, choose one without a belt and all those cluttering loops, like this Tiger of Sweden version.

2. Lightweight Cashmere V-Neck Sweater
The average April temperature at our Pulaski, Wisconsin offices is just 48 degrees, so this Lono Piana sweater is practically a necessity. No matter where you live, toss it over a rumpled, washed white shirt with denim, or under a blazer and you're suddenly oozing casual elegance.

3. White Pants
Conventional wisdom holds that unless you're a rock star or live in South Beach, white pants are strictly a Memorial Day to Labor Day thing. As we've said before, baloney. By the time your favorite team has gone through a couple of pitching rotations, you can start rotating in white pants. This season, Gucci's 5-pocket denim are especially inspired, and at $595 they better be.

4. Gingham Shirt
Nothing signals longer days, warmer weather, and bugs quite like a gingham shirt. Fear not, this ain't your granddad's Sunday brunch gingham shirt. It's a classic interpreted with a couple of twists by Domenico Dolce & Stefano Gabbana.

5. Walking Umbrella
So you're rocking a few of the items above and it starts to rain. Don't veer toolbag with one of those $5.99 popups or a contrast-panel Titleist better suited for a shower on the 15th green. Paul Smith has you covered much more stylishly with his signature stripe trimmed, chestnut-handled version.