MB Feature: The Magnificent Bastard Cocktail
The Runners Up
These drinks did not win, but they're good enough to add to your cocktail rotation.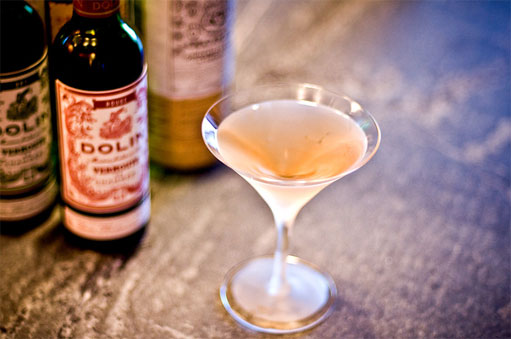 Matt Hamlin's Mezcal Rob Roy (Perfect)
1 oz Mezcal (Del Maguey Chichicapa)
.5 oz Dry Vermouth (Dolin Dry)
.5 oz Sweet Vermouth (Dolin Sweet)
1.5 bar spoons Maraschino (Luxardo)
Stir all ingredients over ice. Strain into a chilled cocktail glass.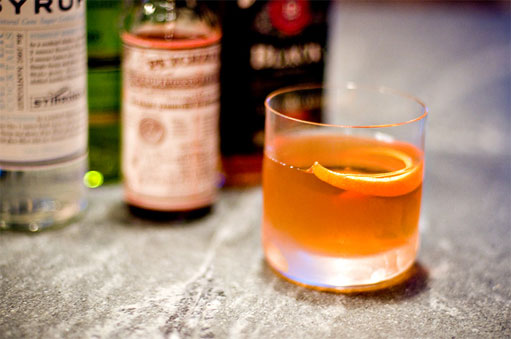 Xopher Hartman's Sazerac Twist
1.5 oz bourbon (I used Jim Beam black label)
0.5 oz green Chartreuse
0.125 oz simple syrup
2 dashes Peychaud's bitters
orange peel (garnish)
Shake all liquid ingredients with ice in a boston shaker, then drain into a chilled rocks glass. Garnish with orange peel.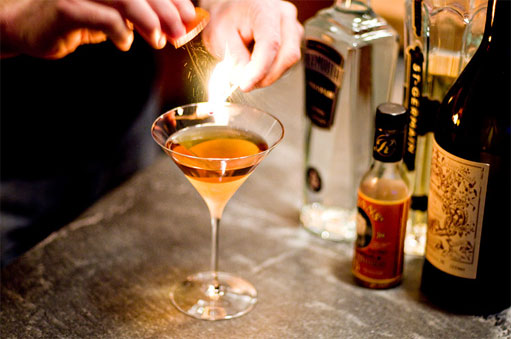 Carie L. Fuller's Spectacular Bitch
1/2 oz. Absinthe (Vieux Pontarlier)
1 1/2 oz. Plymouth Dry Gin
3/4 oz. Carpano Antica Sweet Vermouth
1/4 oz. St Germain Elderflower Liqueur
Full dash of Orange Bitters
Flamed orange peel garnish
Rinse cocktail glass with 1/2 oz. Absinthe
Chill cocktail glass
Pour Gin, Sweet Vermouth, Liqueur, and full dash of orange bitters into mixing glass over ice.
Stir for 20 seconds.
Cut fresh disk of orange peel with fair amount of pith.
Julep strain mixing glass into cocktail glass.
Flame orange peel above cocktail to release delicious, fresh, orange oil mist. Place in glass as garnish.