MB Feature: The Magnificent Bastard Cocktail
The Winner
The Magnificent Bastard was invented by Bryan Swanson in 2010 A.D. Here's how to make it, why it's 100% MB, and how he came up with it.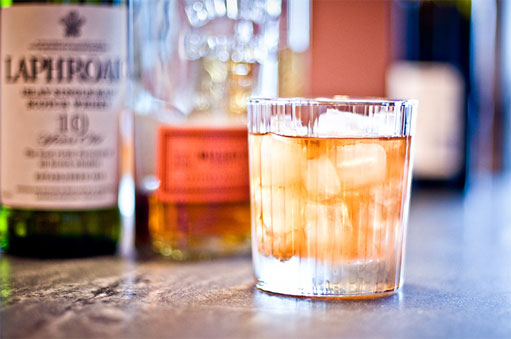 The Recipe
2 oz Bulleit bourbon
1 oz Berentzen Apfelkorn
1/8 oz Laphroaig 10-year scotch
2 dashes Angostura bitters
Combine all ingredients in a mixing glass filled with ice. Stir languidly for 28 seconds. Strain into ice-filled rocks glass.
The MB Story
A classic cocktail is always more than the sum of its parts. But as everyone from Dr. Frankenstein to Sir Henry Royce can attest, it helps to start with great parts. In the case of the MB Cocktail, it turns out that through sheer serendipity each ingredient embodies some crucial facet of the Magnificent Bastard ethos. Like the four bases of DNA, the four ingredients of an MB cocktail (we're not counting the ice) come together to create something that is at once amazingly simple and pleasingly complex. If you ask us, a metaphor never tasted so good! Here's a closer look at what goes into an MB.
Bulleit Bourbon
Do tubes of processed meat have a Congressional decree stating that only those manufactured in the U.S. are worthy of the name "hot dog"? No, but bourbon does. While style knows no geographical boundaries, our aesthetic here at MB originates in the American heartland. What better way to honor that than with a bourbon that comes in a bottle that would have looked at home in The Long Branch Saloon?
Berentzen Apfelkorn
If you've ever been to Pulaski, Wisconsin, ground zero of Magnificent Bastard, then you know that apples, corn, and drunken farmers with Teutonic roots play a major role in the landscape. Coincidentally, apples and corn are the two major ingredients in this German liqueur. While Berentzen Apfelkorn is technically a Schnapps, it features a much lower alcohol content (20%) than, say, Goldschlager (43.5%). This gives it just the right note of understatement. Its presence is immediately felt, but not in a way that promises imminent fist-pumping.
Laphroaig 10-year Scotch
It wouldn't be an MB cocktail without a liberal splash of Anglophilia. Laphroiag, it turns out, carries the Royal Warrant of the Prince of Wales. And if Prince Charles thinks it's good enough to provision the bar at Clarence House, well, then, it's good enough for us.
Angostura Bitters
We have always appreciated Angostura's oversized label, which, with use, invariably gives the bottle an artfully disheveled appearance. Now that we know Angostura was created by a combat-loving doctor in the jungles of Venezuela (romantic pedigree) and beset by a worldwide shortage in 2009-10 (exclusivity), it has joined our list of inanimate objects we wouldn't mind be reincarnated as.
From The Inventor
We asked the inventor of The Magnificent Bastard a few questions about his concoction.
Magnificent Bastard: Congratulations on winning.
Bryan Swanson: Thanks. This is great! I look forward to getting a lot of Fever Tree tonic from KegWorks.
MB: Why Bulleit? And did you try it with more Laphroaig?
BS: I made several variations trying different whiskeys (Maker's Mark, Russell's Reserve Rye) and decided on the Bulleit because I thought it had the cleanest balance with the other ingredients. I tried varying amounts on Laphroaig and was actually surprised at the small amount that I ended up with. The drink is also good with more, but that obviously makes it more overtly smoky. I like that less gives you just a hint of smoke at the end of a sip.
MB: Why Apfelkorn? It's certainly an unexpected choice.
BS: The Apfelkorn smooths out the bourbon nicely and I think bourbon and apples are a natural pairing. I just pray no one tries to replace it with something like Apple Pucker in the recipe. I should also give a nod to chef Patrick O'Connell's recipe for Bourbon Pecan Waffles, which are great with sauteed apples and probably subconsciously planted the seed for this drink.
MB: What makes it Magnificent Bastard-worthy?
BS: I think it's smooth, classic, and unfussy, with some complexity (thanks to the Laphroaig). Don Draper would drink these.
MB: Is it a year-round cocktail? How would you seasonalize it?
BS: I probably won't be mixing a lot of these on 100 degree days, but I do think the drink is smooth enough to drink year-round. In the winter, I may give it a try with some cinnamon tincture and I'm also curious to try it with maple syrup in place of some of the Apfelkorn because I think Dave's drink with the maple syrup is really great.
MB: Are you concerned that you've made a too dangerously drinkable cocktail?
BS: I don't know exactly what I may have unleashed, but I hope everyone else enjoys it as much as I do!