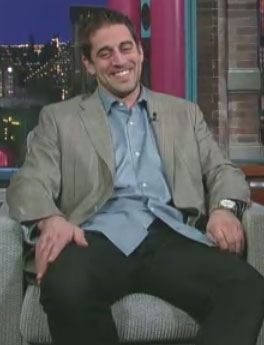 We are huge fans of Aaron Rodgers. He not only wins, he looks good doing it, with a laid-back but commanding presence on the field. When it comes to passing efficiency, he's the NFL's best ever for quarterbacks with at least 1500 attempts. But when it comes to dressing efficiency, he may trail even Ben Rothleisberger, and that's not a good place to be. On Letterman last night, Rodgers went just 1 for 4. The dark denim is fundamentally sound, but the untucked woven with what looks like a suit jacket is a fumble on the opening drive, and the oversized watch overthrows good taste by at least ten yards. Get this man an offensive coordinator!

With his first Super Bowl victory under his belt, people are already comparing Rodgers to Bart Starr and Joe Montana ... but for the moment, at least, Broadway Joe's legacy as the NFL's most stylish QB ever seems extremely safe.

Earlier: Ben Roethleisberger getting gang-tackled by his ridiculously oversized jacket, shirt, and t-shirt.

Earlier: Joe Namath goes deep on sideline attire.