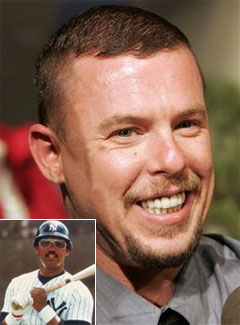 British fashion designer Alexander McQueen was found dead this morning in his London home. He was only 40.

Wikipedia tells us McQueen was known as "l'enfant terrible" and the "hooligan of English fashion," but we always considered him the Reggie Jackson of menswear. His footwear collaboration with PUMA produced some of the most soaring home runs we've seen in the last decade, and we have filled our closets with multiple pairs.

Like Jackson, McQueen didn't just hit jaw-dropping home runs, though. He struck out frequently, and when he did, he never went down looking. Instead, he took some of the most audacious hacks we've ever seen. His strike-outs were, if not things of beauty, mesmerizing spectacles nonetheless.

It will be tough to fill his lizard-leather sneakers. RIP, Mr. McQueen.