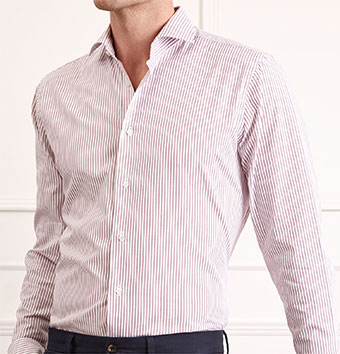 Since we reviewed seven custom shirtmakers a decade ago, a bunch of others have offered free shirts for an evaluation, and because it takes us getting up from the sofa, we've always said no.
But when Apposta asked us to have a look we changed our tune, primarily because their shirts are made in Italy. Where possible, this is where MBs want their clothing (and shoes) to be made. It's a default setting like getting forged blades from Japan, Scotch from Islay, or pump-action shotguns from here in America.
The shirtmakers we originally reviewed all outsourced their manufacturing to Thailand, Hong Kong, Honduras, China, and Vietnam. Proper Cloth, now one of the most popular online shirtmakers, has their shirts made in Malaysia. We're not saying some great shirts cannot be made in these places — especially Hong Kong — but we are saying that shirts made in Italy are likely just going to be better.
This was the case with the Apposta shirt. Probably because the fabric came from an Italian mill, the buttons were Australian mother of pearl, and the stitching and fit are both just very ... Italiany. While Apposta doesn't offer our preferred sewn collar, they do have an option of a "soft" collar that approximates unfused, to allow for maximum sprezzatura (that's Italian for artful dishevelment).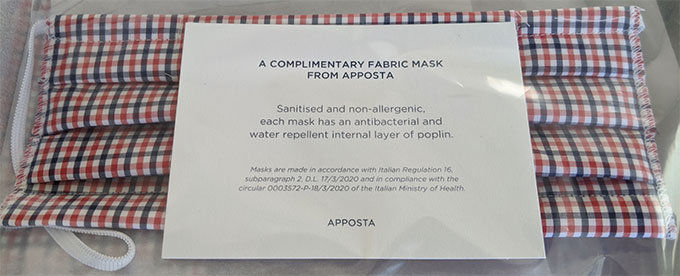 To top it off — and recalled the memorable touches of ordering from a well-known Italian fashion house — is the shipment came with an ear-loop mask made from the shirt fabric. Magnifico! Just don't pair with the shirt (too strong of a Garanimals vibe), or put it on while trying to buy a pump-action shotgun from a West Palm Beach gun shop (at least without an appointment).