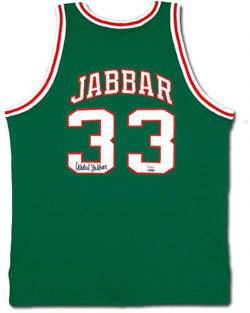 Q: Hi guys, love the site but I'm having something of a difficult time implementing the advice. I'm 23, and my problem is that I'm 7' tall and quite thin, and it's damn near impossible to find fashionable clothes that fit properly. Are there any good designer labels that cater specifically to tall people? Also, are there any dress tips that might help me blend in a bit better? I'm tired of standing out all the time.
--Michael

A: How's your low-post defense? Or your mid-range jumper? And perhaps most importantly, how does your skin react to sustained contact with 100% jersey polyester?

In all seriousness, none of the designers featured on this site are going to help you much beyond a t-shirt or accessory. Michael, it's time to discover the world of bespoke clothing. You think those injured NBA players at the end of the bench are in off-the-rack suits from Macy's? OK, maybe the guards and small forwards. Find a good tailor in your area and he can handle all your office-related suiting and shirting needs. For jeans, find a denim bar with a sewing machine on the premises and those elusive 46" inseam bootcuts are yours while you wait. (Note: this may require coastal travel if you're not already there.)

As for blending in better, try to spend a lot of time sitting down.