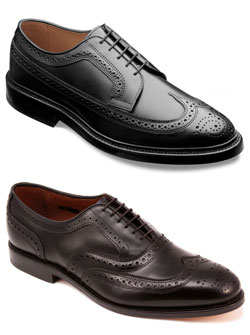 Q: I've been given a very large gift certificate (which cannot be converted to cash, so don't suggest that) for basically a free pair of Allen Edmonds shoes. Suggestions? I need a pair of black shoes to wear with suits. Thanks.
--Chris

A: Next time tell your grandfather to just give you cash. But it's late spring and we're thirsty so let's turn lemons into lemonade.

If your gift certificate is indeed very large then this Cordovan blucher (in the more matte Black Shell, top) is the best shoe AE sells and will last a lifetime. For a slightly less generous gift, the best option is definitely the McAllister. These are classic, understated wing tips that have stood the test of time (first introduced in 1956). In our college days, we never got any gift certificates so had to make do with raiding dad's closet for the merlot version, which can be paired with denim or khaki and exposed ankles to great effect.