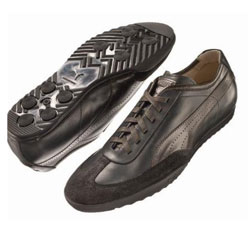 Q: Well I went looking for the Dassler Kapitans (from the post on April 27, 2009) at Puma's site and they only have one size...for people with very small feet. Guess I missed the window on those. Any suggestions for a comparable alternative? Also, what is the shoe the MB has on in the current header, out of curiosity?
--Gregory

A: Too bad on the Kapitans. There are a couple pair in larger sizes available on ebay for only $83.11, but in a lighter brown. Also, keep your eyes open on store.puma.com because they do restock.

For a substitute, take a look at the Roma Re-Luxe which is available in many sizes at Zappos. We've probably said this before, but Puma is redefining men's footwear, and we're totally on board. Now men just need more things to wear these with besides denim.

Regarding the golf shoes the MB is wearing in the header photo, they're Adidas "modo Delmar," and are widely unavailable. One thing we've learned about Adidas golf shoes, if you find a pair you like, buy a half-dozen of them because they will be completely gone the following season.