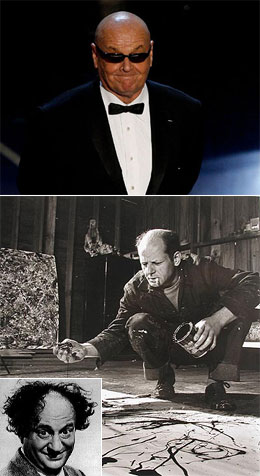 Q: I shave my head, due to hair loss, and feel that it detracts from your artfully disheveled standards. Are there any general rules for us smooth-domed MB wannabes that I should be following?
--Dan

A: Dan, you said you shave your head, but how often do you shave? We ask because in our opinion, the fully shaved look (aka the Savalas) as a can't-miss cure for baldness is ultimately about as can't-miss as Rogaine or Propecia -- it doesn't always work as advertised. If you're Michael Jordan, go for it. If not, well, just look at Jack (top) -- suddenly one of the world's coolest dudes looks like a bigger toolbag than Joe the Plumber.

Our advice: when you shave, leave enough stubble to make your wife/girlfriend think twice about asking for special favors. Then, don't shave again until you start worrying about the impact wind/hats are having on your hair. The more hair you have left on top, the more frequently you'll have to shave. When you're looking like Jackson Pollock (bottom), you're looking just right. When you're looking like Larry Fine (inset), you've let it go too far.