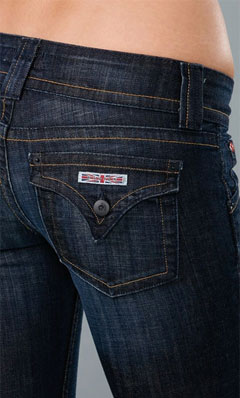 Q: I'm a 52 year old woman, 5' 2", my build is medium (not skinny, not chubby) kind of average. However, for awhile, my butt has been going south and I can't do anything else about it besides lots of lunges. What would you suggest is the best jean to lift up the derriere.
--Mireya

A: Mireya, don't you just wish you could put that droopy ass up in a ponytail? No doubt everyone would benefit if you and other women in your situation could have an occasional bad ass day. Whip that thing up there and forget about it! Alas, since slinging ass isn't part of our current reality, you're smart to realize you can build a better butt with the right pair of denim.

Start with MB-endorsed Hudson. Signature back pockets (pictured) give the illusion of that desirable apple roundness. They're cut a bit higher in the waist as well (deliberately showing ass crack is so Last Year). This is also advantageous if you've got anything cookin' in the muffin top department.

Another brand worth investigating is Fidelity. You'll likely catch a few compliments with these; again the secret is those back pockets. Yeah, they're a little spendy, but consider it an investment in your bottom line. All it takes is one pair and Boom!, it's like a bailout for that junk in your trunk.