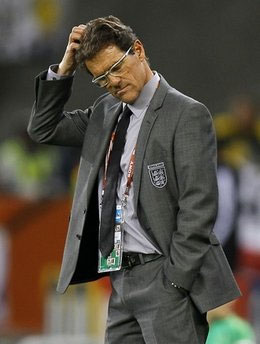 Q: What does MB think of David Beckham and Fabio Capello's Umbro suits for the 2010 World Cup? Is this a winning look?
--Brennan

A: Nicely proportioned lapel, two button front, four button (which we presume to be functioning) cuffs, double rear vents in the traditional British style, and a three-lion crest. If you can excuse the creases in the pants, there is a lot to like here -- but unfortunately FIFA doesn't award any points for the amount of fearsome wildlife on your breast pocket.

With England currently 0-0-2, with just one goal to its credit, and unlikely to make it out of the weak Group C, the suits are looking a little TTH, like Beckham and Capello spent more time preparing their wardrobe than their team.