Q: What is the proper length for a sportcoat or suit (and should there be a difference?) in the modern era? In other words, where should it end relative to your torso? I have a variety of high-quality sportcoats and suits acquired over the years and have typically worn a 40L, to get the chest fit and sleeve length mostly (I'm 6'1" with long arms and 33 inch waist). But the length of the coats (top of collar to bottom) varies from 31 1/2" for an Armani sportcoat to 33 1/2 for a suit. I'm not interested in the Thom Browne look, nor do I want to look like I'm wearing grandpa's suit. Some of mine now feel dated due to this length. The coats I see on the guys which look like they fit the best seem to be shorter length — ending just at the bottom of the rump. Looking at the J. Crew Aldridge it seems that is where they should hit — although it's hard to tell from the model's slouching. What is your point of view on this issue?
–Nick

A: Nick, we believe there is a perfect length for a blazer or suit jacket (no, there is no difference). To illustrate this, take a look at da Vinci's Vitruvian Man below. A jacket should end at the end of your nutbag — give or take a 1/4" — when tried at room temperature. This will obviously involve standing in front of a mirror with your pants down, so we don't recommend doing this in department stores with security cameras, fraternity houses, or the Congressional gym, unless you want to end up on the web some day.

Note: If your balls go for a swim when you sit down on the can, this method will not work for you.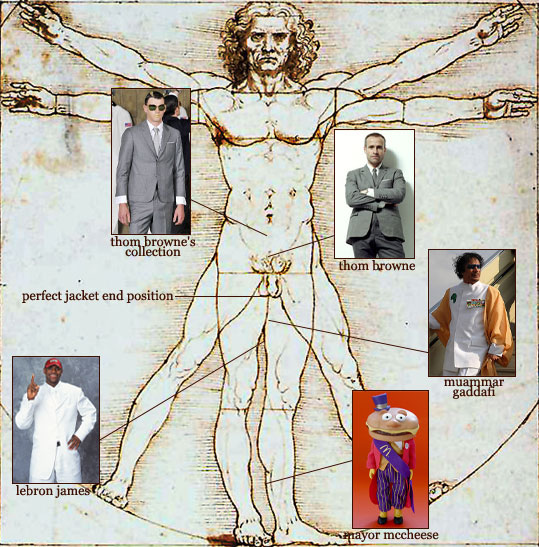 Earlier:
Muammar Gaddafi: The Man Who Would Be Ken