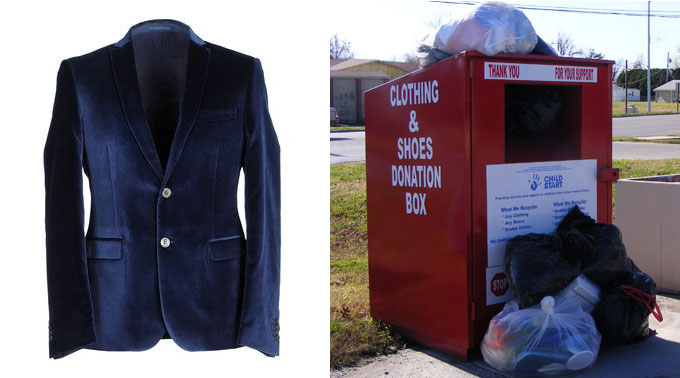 Q: Bought a new David Naman blue velvet blazer on YOOX. The lapels are a little too thin. What's an MB to do? I have 19 days to return it.
— Aaron
A: We could answer this very quickly, but this is important, so indulge us for a bit.
David Naman makes some of the highest style/price-ratio clothes in the world. But your assessment — "a little too thin" — is right on the nose. They are what we call "Keira Knightly thin." Which is to say, not alarmingly emaciated supermodel thin, but still a little narrow for our taste. We are longtime advocates of ties that are at least 3" wide, and lapels that echo them. For us, any blazer with a lapel narrower than 3" is catch-and-release.
More importantly, if you ever have a second thought about a sartorial purchase, follow a key MB principle and always return it, no matter what the price or savings. Keeping an item you're not thrilled with leads to regret, and regret — sometimes quickly, sometimes slowly, but always inevitably — leads to a search for a red clothing dumpster that is not so overflowing with Dockers and Crocs that it can accommodate your cast-offs too. We cannot stress this enough: You can ultimately learn to adapt to the quirks, anomalies, and even deficiencies in other human beings, but your clothes and your shoes must be perfect. No compromises. When you compromise, you're stealing from yourself.
So are you going to return that blazer? Of course you are.