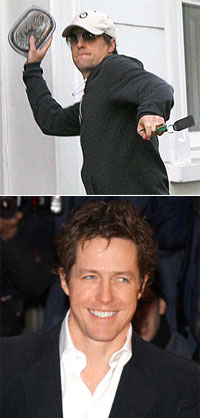 Q: Now that fall is coming around, it's time to break out the blazers; but is the t-shirt/blazer combo still in vogue or has that ship sailed?
—Sherwin

A: That ship has not only sailed, it was attacked by pirates, looted, burned, then sunk, and the crew was eaten alive by sharks.

Even though he throws like a goddamn girl, or perhaps a lousy cricketer, just look at how Hugh Grant oozes casual cool with this crisp white shirt (tucked in, of course) and an unbuttoned top button.

Try this instead.