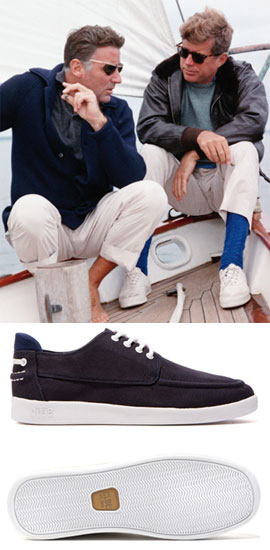 Q: Boat shoes. I can't stand 'em. And I've always refused to have anything to do with them. That policy has worked fine up until now, since I've been comfortably ensconced on dry land. But now I'm going on a week-long yacht trip in the Mediterranean, and I have no idea what to wear. Is there a practical, non-naff-looking boat shoe substitute out there?
—Don

A: While the mind tends to immediately translate the term "boat shoe" into "Sperry Top-Sider" or, more generally, "those brown leather shoes with nautical rigging on the sides," the term is actually more expansive than that, at least in our minds.

A boat shoe is characterized by (a) water-resistance and (b) a non-slip sole.

Paul Sperry, creator of the iconic Sperry Top-Sider, did his most important work tackling the non-slip sole aspect of boat shoes. As the new book Icons of Men's Style recounts, Sperry bought a schooner in the early 1930s but unfortunately found himself slipping all over its deck when it got wet. To solve this problem, he first tried to make the deck less slippery, but eventually he decided it would make more sense to make his shoes more grippy. Drawing inspiration from the grooves on the pads of his cocker spaniel's paws, he created the concept of "siping" and cut grooves into a rubber sole in a herringbone-like pattern. Voila, problem solved, he'd found a shoe that allowed him to keep firm footing on the high seas.

Do you need the rest of the trappings of the Sperry Top-Sider when you leave dry land? JFK spent more time on boats than he ever did in the Oval Office, and while we don't know if he felt as strongly about classic boat shoes as you do, he did eschew them in favor of white canvas tennies. We're not sure how much traction his shoes featured — keep in mind that he was a man who was unusually sure of foot — but here are few models we think he'd endorse:

Sperry Striper CVO, $60
Seavees Army Issue Sneaker, $56
Converse Jack Purcell Racearound PH Ox, $33
Supra Wrap Shoe, $49

Finally, please note that JFK was a size 10. If you're anywhere north of that, white shoes can easily look like clown shoes. In this case add some color in the form of these Clae Zissous in Deep Navy, which are what boat shoes would look like if they aspired to be a sneakers.