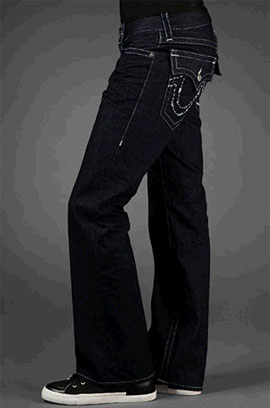 Q: Bootcut jeans these days are nose-diving on the stylishness scale. Sources ranging from GQ to random style bloggers now treat bootcut jeans like they're the next shiny square-toed shoes. Why is this? When did this happen? It's frustrating because straight jeans are too tapered to fall properly around any shoe. Unless you get a size that's too short, they just bunch up at the ankle and look sloppy. As a result (and the only way to alleviate this sloppiness), we've got the fashion industry telling us that it's also a great look to roll up our pants legs, because, as we all know, men want to emulate the bastardly Huck Finn and the magnificent Opie Taylor. Please, enlighten us.
—James

James, we don't know what happened to bootcut denim but we haven't worn a pair of bootcut jeans in a very, very long time. In fact, we were wondering if one could even buy a pair anymore and did a quick inventory of well-known retailers and their bootcut denim stock.




| Retailer | # of Jeans | # of Bootcut Jeans | % |
| --- | --- | --- | --- |
| Barney's Co-Op | 135 | 1 | .7% |
| Bergdorf Goodman | 24 | 2 | 8% |
| Bloomingdale's | 178 | 31 | 17% |
| Neiman Marcus | 151 | 19 | 13% |
| Nordstrom | 260 | 41 | 16% |
| Saks Fifth Avenue | 215 | 24 | 11% |

Among these retailers, Barney's is the most forward-looking, so this data predicts that in a year or two wearing bootcut denim might exceed shiny square-toed shoes in unstylishness, and perhaps even become the equivalent of wearing Crocs.

As for your bunching dilemma, a proper straight jean is not tapered below the knee. Hence the name. If it is, then it loses it claim on the name and becomes a skinny or slim jean. We encourage you to avoid those as much (well, almost as much) as you avoid bootcut jeans.

If you're looking for a good straight leg jean, our all-time favorite fit is Adriano Goldschmeid's Protege. 17.5" at the knee, 17.5" at the leg opening. Perfect. Cut to the proper length, these won't bunch.