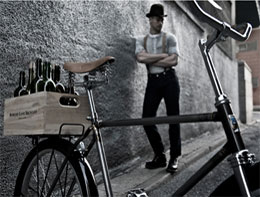 Q: I am moving into the city (Washington DC) and am looking for a bike to get to and from work and around the city in general. I found Bowery Lane Bicycles (http://www.bowerylanebicycles.com/). What do you think, do they make the MB grade?
--Spencer

A: Spencer, we are intrigued by these bikes, especially given their price. A handmade steel frame by an American builder for less than $1000 is virtually unheard of. A complete bike with a handmade steel frame, for just $695, almost sounds too good to be true. Granted, Bowery Lane is not making these things in custom sizes (which is one reason handmade frames tend to cost as much as they do), but we'd still want to look at them in person before recommending them. (While we might endorse, say, a cashmere sweater without ever laying hands on it, we're not depending on a cashmere sweater to keep us relatively safe in the midst of rush-hour traffic.)

That said, we like the idea that you can get something that echoes the style of a Pashley Guv'nor or a Retrovelo at a price that won't leave you reluctant to let it out of your sight. We're not crazy about the old-timey names and imagery on the web site, but we do like the visible brazing and clear-coated steel tubes of the Broncks Raw -- it's basically the artfully dishevelled version of a bike. It's at least worth a test ride.