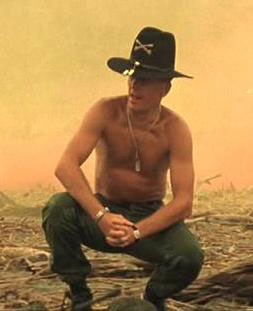 Q: I'm not a big fan of jewelry in general, but every once in a while I get the inclination to try wearing a bracelet or dog tags. Should I ignore that inclination?
--Dustin

A: We don't love the smell of accessorization in the morning.

Robert Duvall rocked the bracelet and dogs tags in a major way as Lt. Col. Bill Kilgore in Apocalypse Now. (Incidentally, he was 48 years old in this picture.) But he was in the U.S. Army, in theater, fighting the Vietnamese at the time. We're guessing you're not. For civilians we preach accessorization minimization, so go ahead and ignore that inclination.