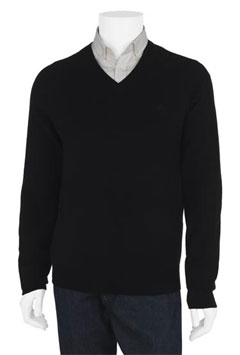 Q: I ordered a Burberry stretch cashmere sweater that looks a little too tight. It is size medium and I want to wear an MB collared white shirt under. If I pull it down so that it doesn't leave slack then it becomes tight and long. If I go to a size small it would be way too tight and be too close to the waist. If I go large then it might have too much extra slack. I can't win. Is it better to have clothing that is a little too tight or too loose.
--Dennis

A: You think we do all those grueling lunges, dead lifts, and bench presses so we can hide the results underneath a baggy Burberry cashmere sweater? No sir. This is pretty simple. If you don't have any unsightly bulges then go with a little too tight vs. too loose.

Additionally, about your size dilemma: You can shape a cashmere sweater (even with a little elastane) to be about whatever size and proportion you want with some careful washing, stretching, blocking, and drying.