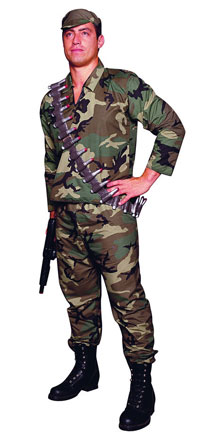 Q: I am overweight and poor, and as a result I have a wardrobe that is five years old. I'm trying to make the best of it so I come to you with a question: When are camouflage pants/shorts acceptable?
--Ben

A: Two situations, Ben: 1. Protecting America's freedom, and 2. Halloween costume.

Fast for a day, take the money you would have spent on food and head to the clearance rack at Target, where you will always find multiple pairs of XXL Converse One-Star pants marked down to $10 or less.