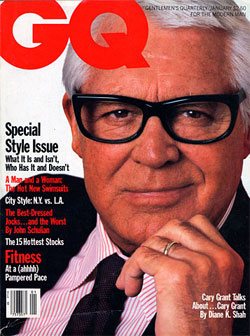 Q: I've been rambling through the web for months now hoping I could find a name and model of the black horn-rimmed glasses the late wonderful Mr. Cary Grant wore. They were so plain yet held their own level of style among the simplicity. What can you all tell me?
--T.R.

A: While we're still researching the make/model of Mr. Grant's North by Northwest sunglasses, we're confident about his off-screen glasses as pictured on this old GQ cover: They're Rodenstock Roccos.

To our eye, Roccos look not so much like glasses as the theatrical prop version of glasses -- glasses that even the folks in the last aisle of the balcony can see. This isn't to say we don't like them -- just that the degree of difficulty in pulling them off is high. Unless your face is a leading man type itself, they will steal the scene from it every time. And who wants to be upstaged by their glasses?