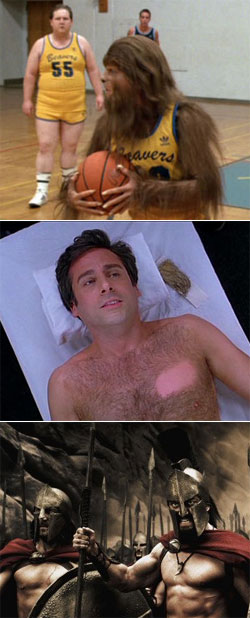 I see on your site that you feel very strongly against wearing undershirts. In this particular day and age of the waxed chest this may work, but how do you feel about no undershirt with chest hair showing? For those of us that are of the hirsute persuasion, how do we wear a shirt unbuttoned without looking like some sort of mafia toolbag?
--Todd

A: Chest hair showing? Uh, no.

Recall the wonderful "get laid" advice given to the extraordinarily hirsute 40 Year-Old Virgin by his buddy Jay:

"You see that whole Teen Wolf thing you got going right there? (points to chest)
"You need to wax that right out."

Let's review your options:

TRIM: Keep your inner (outer?) Chewbacca in check with a regular trim, to your own length of comfort. Get something professional quality like this Panasonic model.
Verdict: Good option if you want to retain some growth yet not look like a mafia toolbag.

SHAVE: Depending on whether you have a mohair or merino wool sweater under there, this can work on a long-term basis and is easy to do in the shower.
Verdict: OK unless you've got the mohair model, which will clog the shit out of any razor. Also, stubble returns fast, like on your face, and can poke through your shirt.

WAX: Waxing will make your chest as smooth as a your ass -- OK, a baby's ass -- though it's painful and only lasts a few weeks.
Verdict: Waxing scene from 40 Year-Old Virgin kinda sealed the deal on this choice.

LASER: Somewhat costly and somewhat painful but takes that right out for good.
Verdict: The Official Chest Hair Management option of MB.com. Visit once or twice just to thin it out; visit 3 or 4 times and you're all set to model for Dolce & Gabbana or star in the sequel to 300.