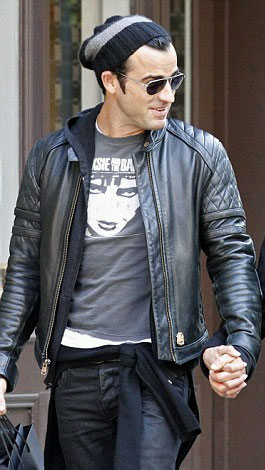 Q: Winter is upon us, and I've developed a case of "color matching doubts and anxiety".

— Black pea coat with denim?
— Dark blue sweater with black pea coat?
— Brown sweater with black jeans?

All these look OK in my mind, but I've heard there are rules. Generally, how to wear black other than with black? Please help clear my mind.
—Shane

A: Black and blue are a natural pairing, so wear #1 and #2 with confidence. We would never try #3, not because it can't work, but because we don't own a pair of black jeans, primarily to avoid ever looking like anything resembling Justin Theroux. (We don't care if he's plowing The Hottest Woman of All-Time. 40-year-old in a Siouxsie and the Banshees T? Even money says this dude's never even been to a show.)

Anyhow, if you're still suffering from color matching doubts and anxiety after reading this we recommend avoiding black entirely and opting instead for charcoal grey for the outerwear and blue for the jeans. Both of those go with anything.