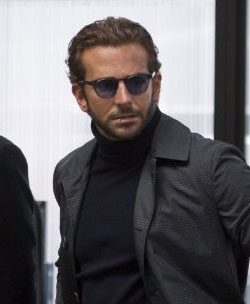 Q: We can all agree Wayfarers have peaked in popularity and aren't even a consideration for sunglasses this summer. Aviators are timeless, but not original. What's the recommendation to separate from the Wayfaring pack and be able to say in a few summers, "I've been wearing those for years."
--Sean

A: If you own any Wayfarers, send them to a needy Third World celebrity. Even in the Risky Business era we never wore 'em, and never will. Aviators, on the other hand, are like black boots: every MB should have at least one pair in his wardrobe.

But if you're wanting to be out ahead of the trend curve -- and it sounds like you do -- put tinted lenses in a pair of horn-rimmed eyeglasses. Done most famously by Cary Grant in North By Northwest more than 50 years ago, and restared 5 years ago by Johnny Depp with his pair of vintage Tart Arnels, they're trending. See Robert Downey Jr. at the Oscars (in the Oliver Peoples Sheldrake), and Bradley Cooper in The A-Team, opening next month (in the Allyn Scura Legend). But skip the blue lenses for brown or green. They're TH (Too Hollywood), or just plain TTH.