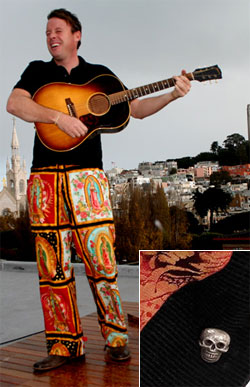 Q: My brother-in-law is all over Cordarounds. I'm not so sure. Your thoughts?
--Jim

A: Horizontal corduroy pants! The world's been needing this for a while now.

While that's a little gimmicky, and their smoking jacket has skull hardware (inset), for just $55 they sell a pair of pants from a print of the Virgin Mary (guitar not included). When you throw this much stuff against the wall, some of it is bound to stick.

At least they have resisted the urge to reinvent the vertical fly.