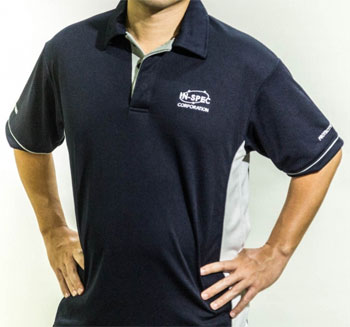 Q: Why is there no section taking a position on corporate polos? I'm not sure if the MB finds them — particularly the ones made from whatever-unnatural-fiber they're all made from — quite a distasteful as I do. They seem to be a badge of honor amongst many of my co-workers. I, myself, wear jackets to trade shows so that I can cover them up as soon as I leave the trade show floor on the way to the hotel to change shirts.
—David
A: We like polos, and for the most part, we like corporations. But in our experience corporate polos are always less than the sum of their parts. You hit on one of the primary reasons for this — they're usually made from materials like 100% cationic polyester double knit or 100% polyester pique material with TopShield™ moisture management technology.
Then, there's the tailoring. Anticipating a market of sedentary cubicle serfs, most corporate polos are designed using a Teletubby rather than an actual person as the fit model, with predictably unflattering results.
Finally, while we know of no randomized control trials to cite, our anecdotal analysis suggests that donning a corporate polo increases your risk of wearing a lanyard by at least 100 percent.
Keeping all these factors in mind, we'd rather go on the dole.