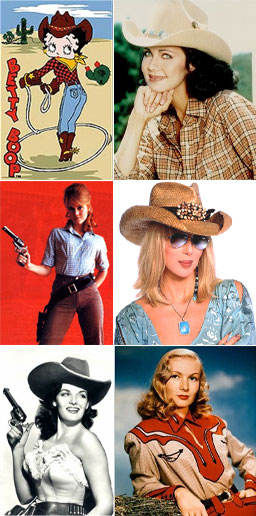 Note: magnificentbastard.com was asked to guest-answer a question at trustyourstyle.com, a lifestyle blog run by the extremely angular designer Mary Jo Matsumoto. And here's what happened:

Q: While shopping this weekend I noticed a lot of tacky women's cowboy hats with crunched up brims in hideous colors. I would never judge a person for their personal style but hasn't this gone on long enough? Madonna wore one in a video 15 years ago and even back then it looked awful. Aren't two season of Rock of Love enough to finally end this travesty?
--Rita

A: What's wrong with judging a person for their personal style? It's a really great timesaver.

While we can't endorse tacky cowboy hats in hideous colors (or two seasons of Rock of Love for that matter), the "cowgirl" look is as American as apple pie and obesity. Love it or leave it, Rita!

Though it doesn't sound like you'll be attempting this look, the trick to making it work is to be sparing with the cowgirl elements, or it'll look like you're late for a date at either the County Fair or the O.K. Corral.

For instance: a cowboy hat with denim and boots = about right. Cowboy hat with denim, boots, and 6-shooter (like Jane Russell) = too much.

Clockwise from upper left: Betty Boop, Lynda Carter, Cher, Veronica Lake, Jane Russell, Jane Fonda.