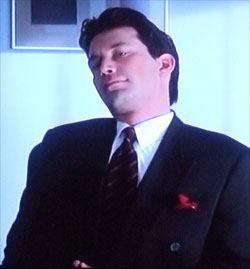 Q: Hey MB, I was at a cocktail party the other night sporting a very nice double-breasted suit. I was enjoying myself, when, out of nowhere, a stock broker crashed my group. Soon after he commented on my style - in a negative manner! According to him, double-breasted is out. Have I lost my magnificence? I think DB suits can still be very cool!
—Matty

A: He might've been wrong about buying Lucent at $80, but the broker is right about double-breasted suits. They feel affected, overly dressy, and just generally TTH (Trying Too Hard).

Let's look to film for evidence. In the 1999 classic American Beauty, Brad Dupree was the prick "efficiency expert" and they dressed him up with a bad name, a bad haircut, bad pocket square, and guess what else: a double-breasted suit.