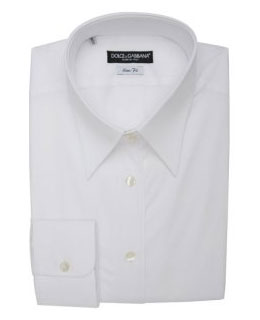 Q: Today I decided to wear a button up dress shirt with my jeans. I'm tall, and typically need to buy shirts that properly fit my height and arm length, but I often end up with a shirt that is much larger in the torso than I. Aside from looking at getting my shirts tailored, are there any recommended means for tucking in my shirt so that it doesn't look like I'm sporting a cotton muffin-top around the waistline?
--Jim

A: Three things:

1. You know how many aspiring MBs would give their left nut -- and maybe even their right one -- to have your problem? At least you've currently got a cotton muffin-top and not a blubber muffin-top. Blubber muffin-tops far less MB. Trust us.

2. You ought to look into the tailoring option to turn your regular-fit shirts into slim-fit shirts. Find a good tailor -- preferably a tiny Asian man who doesn't speak English -- and you also might be surprised at how affordable it is.

3. Explore the world of slim-fit shirts. We've mentioned them before, and it's a little weird talking about $220 dress shirts when there are food riots in Port-au-Prince, but these Dolce & Gabbana slim-fit dress shirts are some of the best we've ever seen and worth every penny. Get one and you won't want to wear anything else.