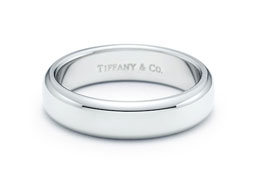 Q: Engagement rings...the inevitable awaits. I noticed a recent trend of colored/gemstones set in rings instead of the traditional diamond. Also, I am thinking of buying a gemstone ring because all of my recently engaged friends seem to have purchased rings at the same place because they all look alike. Wanting to stay MB and keep my second half MB as well, what say you about the gemstone engagement ring?
--Mitch

A: We've answered this question before regarding the man's ring (with a chart), and we'd put a gemstone engagement ring for the Mrs. at the same lousy position on the scale.

Don't do it man.

If you want to set yourself apart from your Zales-shopping peers, while simultaneously conferring loads of class upon your bride-to-be (and by association, you), apply the understatement principle and choose a band. We like platinum. A good local jeweler should be able to create one in a shape you like for roughly a grand. If not, there's always Tiffany & Co. If she requires a diamond, get two with a pair of earrings.