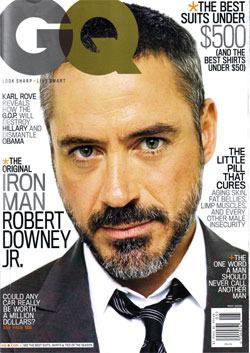 Q: Where does the MB stand on (male) facial hair? I see your page is now adorned with a fella gettin' a shave so I guess I already know the answer. This wanna-be MB has had a goatee for a long time but has been recently thinking about finding a razor. Thoughts?
--Dan

A: Listen, partner. You reckon you ever seen a fella who's an MB with a goatee? Thought so. Yeeehaw!

Either be fixin' to find a razor or grow it out, like Iron Man Robert Downey Jr., on the cover of this month's GQ, who's also the winner of the George Clooney look-alike contest.