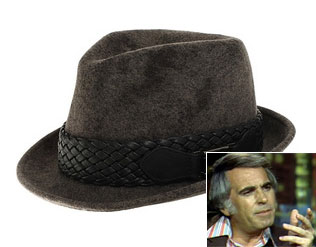 Q: Is there ever good time to wear the collars of your shirt outside of the lapels of your jacket? Also, fedoras are coming back. What does the MB think of that? And ... can a hat ever be worn by an MB at the dinner table of a restaurant?
—Jason

A: First, save the shirt-outside-the-lapels look for next year's Halloween party, or maybe a dead talk show host look-alike contest. Second, fedoras are never good at the dinner table, but they are very good the rest of the time, especially this Eugenia Kim shaved beaver model, available at Barney's Co-Op.

Best to run ahead of the curve before Indiana Jones 4 is in theaters next year.