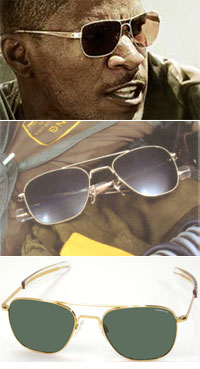 Q: I have been searching every day for the same glasses Jamie Foxx had on in The Kingdom if you find out from the designer would you let us know please. thank you.
—Kevin

A: Last week's post about Jamie Foxx's sunglasses sure has generated a lot of interest. One reader suggested they were American Optical Original Pilots (middle), and another thought they were Randolph Engineering Aviators (bottom). Close, but we don't think a cigar is justified.

We'll continue to try our reconnaissance at Armies of the World and report back with the exact make and model for your next purchasing mission.